First "Bond Girl" Dies At 90
Eunice Gayson – the actress who played the first "Bond girl" – has died at the age of 90. She played Sylvia Trench in 007's 1962 debut, Dr No.
During the filming Gayson helped calm Sean Connery's nerves so he could deliver the spy's most famous catchphrase – giving his name as "Bond, James Bond" – for the first time.
A post on her official Twitter feed said:
"She will be very much missed."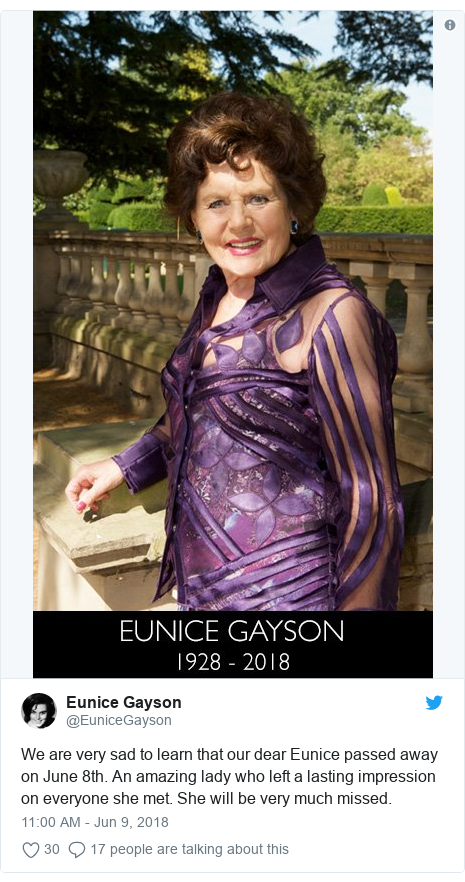 Michael G Wilson and Barbara Broccoli, producers of the Bond series, said in a statement:
"We are so sad to learn that Eunice Gayson, our very first 'Bond girl', who played Sylvia Trench in Dr No and From Russia With Love, has passed away.
"Our sincere thoughts are with her family."
In her role as Sylvia Trench, Gayson, who died on 8 June, helped to create one of cinema's most enduring catchphrases.
Meeting 007 over cards at the Le Cercle Club casino, she suggests raising the stakes. Bond replies: "I admire your courage, Miss, er… ?"
"Trench, Sylvia Trench. I admire your luck, Mr… ?"
"Bond, James Bond."
Gayson said in 2012 that filming the scene had not been easy as Sean Connery struggled with the line.
She said: "He had to say Bond, James Bond, but he came out with other permutations like Sean Bond, James Connery. 'Cut! Cut! Cut!'"
At the instigation of the director, Terence Young, Gayson took Mr Connery for a drink, and he returned to deliver it perfectly.
Sylvia Trench was due to be a recurring character, but the idea was dropped by the director of Goldfinger, Guy Hamilton.
But while she is the only Bond girl to feature in two movies – she also appears in a clinch with 007 in From Russia with Love – Gayson's voice is not heard in either of them.
As with many of the Bond girls in the 1960s and 1970s, her lines were rerecorded by voiceover artist Nikki van der Zyl.
Gayson was born in Surrey in 1928. She played a series of screen roles, including in Hammer Horror's 1958 movie The Revenge of Frankenstein, before becoming the first Bond girl.
After the Bond films, she appeared in several classic TV series such as The Saint and The Avengers.