Hundreds, Including Al Sharpton, Eric Garner's mom, mourn at George Floyd memorial in Minneapolis
Hundreds of mourners, including the Rev. Al Sharpton and the mother of Eric Garner, took part in an emotional memorial service in Minneapolis Thursday afternoon to honor George Floyd, the man whose death in police custody sparked nationwide protests against police brutality and racial injustice.
The ceremony began with attorney Benjamin Crump calling some of Floyd's family members to the front of the room to deliver remarks. They recounted their childhood, growing up with Floyd, who they said close friends and family members called "Perry." Crump said the fight for justice for Floyd was also part of a greater fight to help "America be America for all Americans."
Then, he introduced Sharpton to deliver the eulogy.
"George Floyd should not be among the deceased," Sharpton said, beginning his remarks. "He did not die of common health conditions. He died of a common American criminal justice malfunction."
Sharpton took aim at the criminal justice system's effects on African-Americans and took several swipes at President Trump — first for his controversial move to pose with a Bible near the White House Monday.
"We cannot use Bibles as a prop," he said. "And, for those that have agendas that are not about justice, this family will not let you use George as a prop."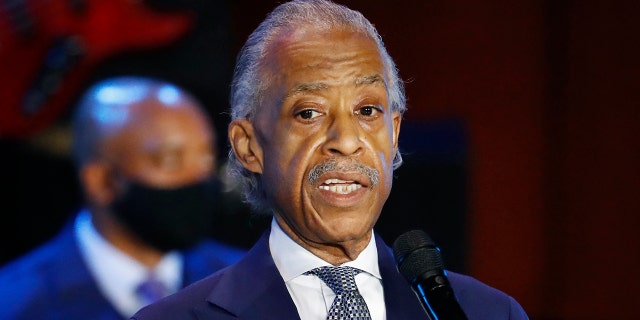 He also criticized Trump for questioning former President Obama's birthplace, noting that Obama rose up from a single-parent home to become the country's first black president.
"And, you ask him for his brith certificate, because you can't take your knee off our neck," he said. "We don't want no favors, just get up off of us and we can be and do whatever we can be."
Sharpton noted the parallels between Floyd's death and that of Garner — whose eulogy he also delivered.
"As soon as I talked to the family and got the details and heard that among George's last words was 'I can't breathe,' with a knee on his neck, I immediately thought about Eric Garner," he said.
He said that Floyd's death needed to spark specific reforms.
"I want you to know in my life, there's times I lost hope," Sharpton continued. "Things can happen like this that'll dash your hope. But, there's something that is sister to hope, that is faith."
He also echoed the words of Floyd's 6-year-old daughter, Gianna.
"You changed the world, George," he said.
Inside the sanctuary, a golden casket was flanked by white and purple flowers, and the image of a mural was projected over the pulpit. It showed Floyd at the street corner where he was pinned to the pavement by police. The message: "I can breathe now."
The sanctuary normally seated 1,000, but because of the coronavirus outbreak, the capacity was reduced to about 500, and mourners wore masks.
People who prayed over the casket included the Rev. Jesse Jackson, who was present in 1968 when Martin Luther King Jr. was assassinated in Memphis, Tenn., and Democrats in Congress including Reps. Ilhan Omar of Minnesota, Sheila Jackson-Lee of Texas and Ayanna Pressley of Massachusetts. Sens. Amy Klobuchar, D-Minn., and Kamala Harris, D-Calif., also arrived. A band and choir performed the gospel standard "Goin' Up Yonder" as the sanctuary started to fill.
Seats were reserved for actors and comedians Kevin Hart, Tiffany Haddish and Regina Hall; actor and producer Tyler Perry; Martin Luther King III; Minnesota Gov. Tim Walz; Minneapolis Mayor Jacob Frey and others.
Crowds and media lined the streets outside the chapel at North Central University in Minneapolis, since the service was open only to friends, family and invitees of the Floyd family, according to the university's website.