Rihanna Reveals How "Body Fluctuations" Influenced Her New Fenty Collection
Rihanna is opening up about the inspiration behind her new Fenty collection.

The Grammy winner and business mogul has launched Release 6.19, available on the Fenty  website right now, for a limited time only. In celebration of the launch, Rihanna stopped by Fenty's pop-up shop at The Webster in New York City on Tuesday, where she dished to E! News' Zanna Roberts Rassi all about the collection.

"We always just try to push ourselves," Rihanna told E! News in the exclusive interview, alongside Fenty's style director Jahleel Weaver. "We pride ourselves in challenging ourselves to do better and push ourselves further, and how can we get our message across in a more impactful way?"
She continued, "Whether it's through fashion, lingerie, music, makeup…we try to get everybody involved and included in our brand."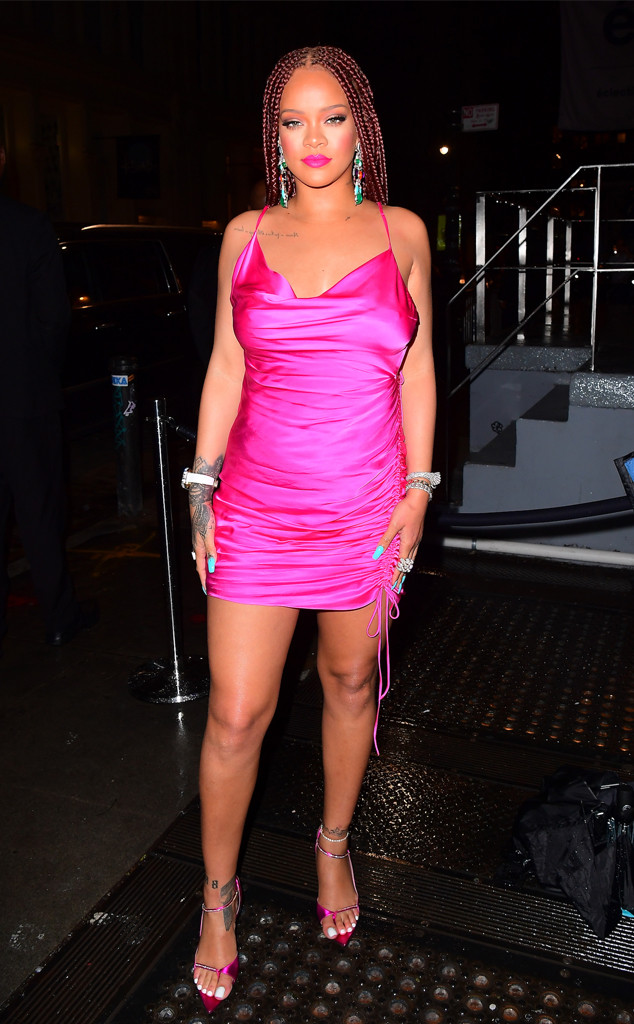 DIGGZY / SplashNews.com
The 31-year-old star, who has been very open about "body fluctuations" over the years, shared with E! News that she was "absolutely" aware of the importance of inclusivity when making the collection.

"We have our fit models, which is the standard size from factories, you just get your samples made in one size. But then, I want to see it on my body, I want to see it on a curvy girl with thighs and a little bit of booty and hips," Rihanna told E! News. "And now I have boobs that I never had before…you know, I don't even know how to sleep sometimes, it's challenging, so imagine getting dressed."

She went on to share, "It's all of these things I take into consideration because I want women to feel confident in my stuff."

Take a look at the E! News video above to see Rihanna talk about her collection, her partnership with LVMH and her beau Hassan Jameel!

Fenty Release 6.19 is available now on Fenty.com.